On Saturday Aug 22nd, we rode down to Tacoma and spent the afternoon ogling vintage bikes at the LeMay Car Museum. Here are a few of the ones that really stood out for me.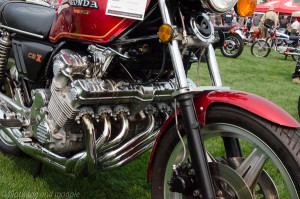 I've always had a thing for 6-cylinder inline engines. The early-80's Honda CBX was a lovely piece of work, and the 6-into-1 bundle-of-snakes header here is just the icing on the cake. The owner rode it away when the meet was over and it sounded as good as it looks.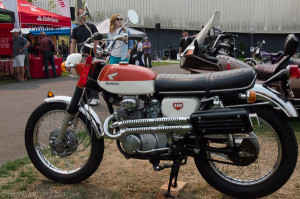 One of the first bikes I really remember: a late 60's Honda CL 350 Scrambler. A co-worker of my dad's had one just about like this. He had to go to Germany for an extended period of time, so he left it with my dad. We used to go for Sunday afternoon rides up to around the lake just a few miles for our house. This is probably where my love of motorcycles was kindled.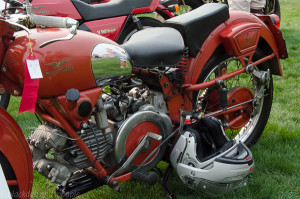 I'll be the first to admit that I'm not that big a fan of modern Moto Guzzi's, but this '57 Falcone (also known as the 'bacon slicer' Guzzi) really does it for me. The artistry in the design of the overhead cam rocker boxes, and that enormous external flywheel. Pure Italian beauty.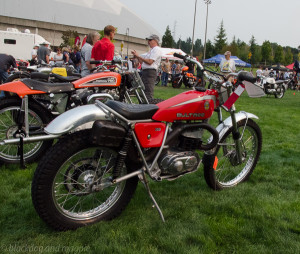 This is a '76 Bultaco Sherpa T Observed Trials bike. I Had a '79, which was nearly identical except that it was blue, and mine had a minor celebrity provenance. It's first owner was a successful national motocross racer named Chuck Sun. That Bultaco was the bike that taught me enough trials skills to get to the Advanced class. (The first time around, in my early 20's. I worked my way to Advanced standing again in my late 40's; it was much harder that time!) This bike is awesome for two reasons: it still has the original alloy fenders, which almost none of them that have actually been used in competition still possessed, and it was shown with a period-correct punch card clipped to handlebars, as though its rider was just about to head out on the loop for a real event back in '77.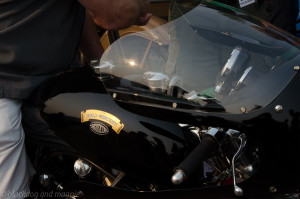 This is the bike that took Best-in-Show. A Godet Egli-Vincent. Which means a 1000cc V-twin from a classic Vincent Black Shadow, in a Patrick Godet-built replica of an Egli chassis. Godet did such a masterful job of replicating the Egli chassis that Fritz Egli gave him permission to use his name on the bikes. An absolutely stunning piece of craftsmanship. It also made a beautiful noise!
There are more pictures at Lara's SmugMug account.