I'm putting my 950 adventure up to sale, great bike, runs and handles great. Wear and tear on my knees has me moving to a lighter bike for adventure riding. 36K miles. Bike is great mechanically, meticulously maintained. Cosmetically OK, the biggest flaw is the bubbling decals, which I've just never bothered to fix, one of the panniers has some dents and scratches, and the saddle is somewhat faded.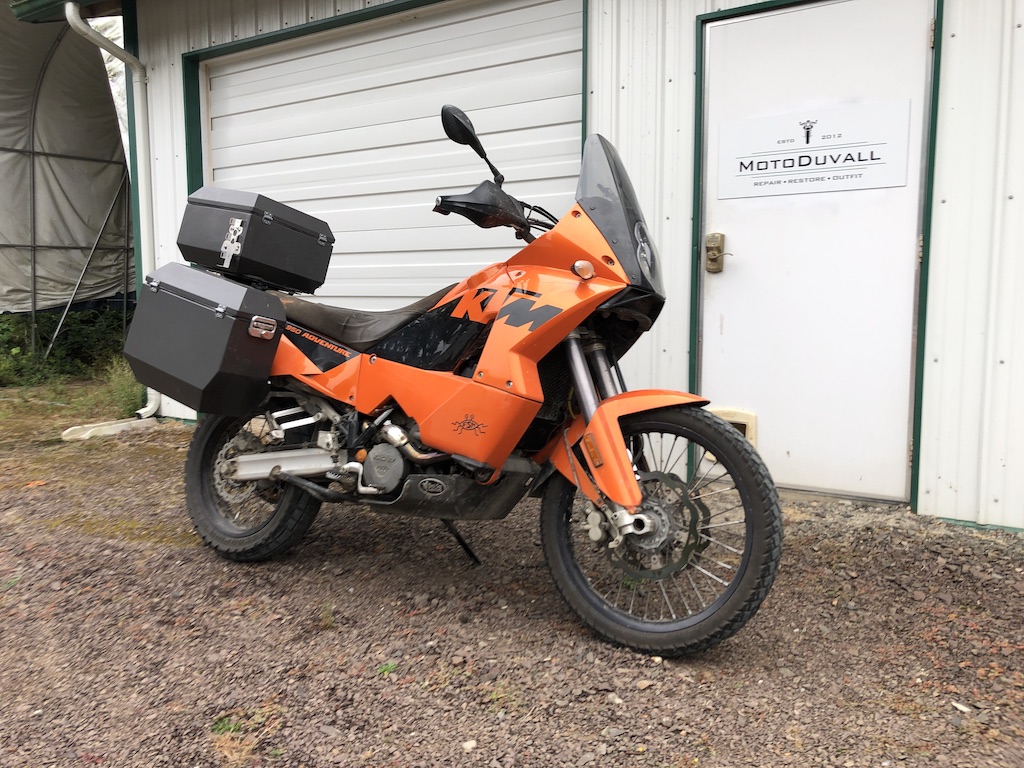 many extras:
Al Jesse panniers and top box (with fuel bottle carriers)
LED taillight/turn signals
Galfer wave rotors and pads front and rear
euro headlight with HID low beam and LED high beam
euro headlight switch
rally switch (fingertip control of odometer modes)
FMF Q4 slip-ons
facet fuel pump
head2wind jet kit and prefilter
second fan and low-temp thermo-switch (never goes above 4 bars on guage)
remote idle mixture screws
renazco saddle
touratech GPS crossbar
touratech mirrors
heated grips
built-in heatrollers for grips and vest connection next to shock adjuster
aftermarket clutch slave cylinder
Black Dog Cycle Works skid plate
LiFe battery, with tender pigtail brought out under the seat.
LED driving lights, with 3-way controller (not mounted right now- they we're on the crash bars, which got bent in, wait for it, a crash)
Extra parts available with the bike: original headlight and seat. extra sprockets (1 rear, two front), TKC 80 tires with about 1300 miles on them, original seat, KTM touring windscreen, Clearview windscreen and deflectors, original mirrors, 2 engine oil filters.
Full service 1600 miles ago: valve check, prefilter clean, oil change w/filter. Rear shock and forks rebuilt 2000 miles ago by Barry Wressel at KFG, in Kent, Washington.
Bike is located in Duvall, WA (30 miles east of Seattle). Test rides with motorcycle endorsement and $5000 in my hand.